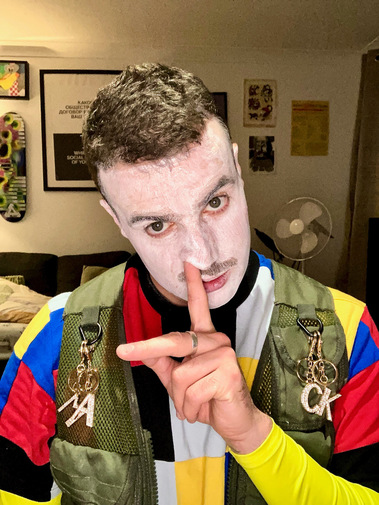 (Born 1994 Harare, Zimbabwe)
(Lives in Edinburgh, Scotland)
James Alexander McKenzie is an experimental poet from Edinburgh. He is dedicated to the subversion and advancement of disciplines in the arts. He moves between poetry, performance art, and theatre. In his 'poetry-plays', McKenzie blends, and blurs the boundaries of, poetry, painting, theatre, spoken word, performance art, installation, sculpture, and stand-up comedy.
Wry humour; parody; absurdity; obscenity; self-absorption; metatheatrical devices; a relationship with art - these are trademarks of McKenzie's work. His sculptural mixed-media paintings are made from discarded materials he has scavenged and double up as theatrical scenery in his hybrid productions. Collage is an essential technique in both his painting and writing practices.
McKenzie has exhibited, performed publicly and lead 'cut-up' poetry workshops at galleries including the Royal Scottish Academy, the Scottish National Gallery, Embassy Gallery, generatorPROJECTS, Summerhall, Sett Studios, Volk Gallery and Orkney's Pier Arts Centre. He has been the recipient of several awards for his work including a bursary from the RSA Residencies for Scotland scheme (2019) and the RSA Carnegie Scholarship for 'painting' for his work in RSA New Contemporaries (2018). His poems have appeared in Outcrop Poetry, Wrong Directions, New River Press, Littoral Magazine, Polemical Zine, and he has self-published several pamphlets. He graduated from Dundee University in 2017 in Art and Philosophy and moved to London for a period to study at Goldsmiths University on the MFA Fine Art programme between 2021 and 2022. McKenzie has completed residencies in Orkney with the Pier Arts Centre in partnership with the RSA (2019), and in Collemacchia with the Museum of Loss and Renewal (2023). His work is held in a number of public and private collections.
Contact
mckenzie_james@hotmail.co.uk
Education
2021-2022: MFA Fine Art at Goldsmiths University (studies interrupted)
2014-2017: Art and Philosophy BA at Duncan of Jordanstone College of Art and Design, Dundee (graduated with honours first class)
2012-2013: General Foundation at Leith School of Art, Edinburgh

Awards
2021: Department of Art Bursary, Goldsmiths University

2021: Scottish International Educational Trust grant
2019: £5000 awarded from RSA Residencies for Scotland scheme to undertake a residency at the Pier Arts Centre, Orkney to focus on a collaborative project with Daniel O'Dempsey
2018: RSA New Contemporaries Carnegie Scholarship for painting
2017: RSA New Contemporaries 2018 Selected Artist
2017: James Guthrie Orchar Memorial Art Prize, Dundee University

2012: Robert Patterson Pencil Portrait Award, George Watson's College
Selected Exhibitions, Performances, Workshops and Residencies
2023: Flaw Foik, multi-venue visual art, performance and live music event with costumed procession, Edinburgh
2023:Taking Time, artist residency with The Museum of Loss and Renewal,Collemacchia
2023: Decoy House 2.0, two-person performance and installation art event with Astrid Batts, Sett Studios, Edinburgh
2023: Jimmy Mack Follies Variation, Embassy Gallery's Members Show, Edinburgh
2023: Jimmy Mack Follies Variation, GENERATORprojects' Members Show, Dundee
2022: Decoy House, open house DIY exhibition with Damien Thirst, Edinburgh
2022: Jimmy Mack Follies, avant-garde poetry-play, seven performances, part of the Edinburgh Festival Fringe, Natural Food Kafe, Edinburgh
2022: Fenris Wolf and Ragnar Thorfinn Act 4, collaborative performance with Daniel O'Dempsey, event accompanies work in Scotland Small? exhibition, Royal Scottish Academy, Edinburgh
2022: (With Fenris Wolf and Ragnar Thorfinn) Premiere screening of Glen Thomson's documentary film Orcadia: A Fenris and Ragnar Story and Q&A, event accompanies work in Scotland Small? exhibition, Hawthornden Lecture Theatre at The Scottish National Gallery/Royal Scottish Academy, Edinburgh
2022: (With Fenris Wolf and Ragnar Thorfinn) Scotland Small?, new bodies of work from eight artists supported by the RSA Residencies for Scotland programme, Royal Scottish Academy, Edinburgh
2022: I'll Have Another, live performance at The Grass is Always Greener on the Sa-Lawn opening, Embassy Gallery, Edinburgh
2021: Tides that Bind, Tides that Break, poetry reading at private view, Aberdour
2021: Farewell My Darlings, theatrical poetry reading with visual art backdrop (solo show), St. Margaret's House, Edinburgh
2021: Sum Poems, 50 poetry tape-cassettes, Volk Gallery, Dundee
2021: The Soapworks Residencies, two day mini-residency and live performance with Hidden Door, Edinburgh
2021: Something's Brewing…, virtual experimental poetry workshop for MFA students of the Royal College of Art, London
2021: Life After Art School, virtual artist talk for students of Gray's School of Art, Aberdeen
2020: Nobility Pursuit, solo show at the G16 Exhibition Space, St. Margaret's House, Edinburgh

2020: Live spoken word performance at Lewis Bissett and Jamie Watt's exhibition Beta Blockers exhibition opening party, Forest Café, Edinburgh
2020: Academy Late, live spoken word performance at the launch event for the new RSA Salon membership scheme, Royal Scottish Academy, Edinburgh
2019-20: Alba down to Nippon, multi-media artwork including theatrical poetry reading, OPEN SSA+VAS, Royal Scottish Academy, Edinburgh
2019: Fenris Wolf and Ragnar Thorfinn Act 3, collaborative exhibition with Daniel O'Dempsey, WASPS Studios, Stromness, Orkney
2019: Fenris Wolf and Ragnar Thorfinn Act 2, collaborative performance with Daniel O'Dempsey and Clair Westrop, Stromness Academy, Orkney
2019: Fenris Wolf and Ragnar Thorfinn Act 1, collaborative performance with Daniel O'Dempsey and Eric Linklater, Pier Arts Centre, Stromness, Orkney
2019: Experimental Poetry Workshop, part of Piergroup, The Pier Arts Centre, Stromness, Orkney
2019: Red Lite Radio, podcast with Daniel O'Dempsey, Orkney
2019: PEPSI 2, group show curated by McKenzie, St. Margaret's House, Edinburgh
2019: Theatrical spoken word performance at Michael Kay Terrence's The Marks to Prove It private view, Summerhall, Edinburgh
2019: JET BABY, theatrical poetry reading, part of Annuale Festival 2019, Heart of Midlothian, Royal Mile, Edinburgh
2019: PEPSI GENESIS, group show curated by McKenzie, Dock Street Studios, Dundee
2019: The Assassination of Dr. Queso Empanada, live theatre at SA-LON SUCKERS,Embassy Gallery, Edinburgh
2019: Round One, poetry reading at private view, The Bridewell Studios, Liverpool
2018-19: CONCORD NUDIST, theatrical storytelling at the SSA 121st Annual Exhibition, Royal Scottish Academy, Edinburgh
2018: ECSTASY AB INITIO, unauthorized poetry reading, Scottish National Gallery, Edinburgh
2018: Live Music// Jam Session// Poetry ETC, The George Orwell, Dundee
2018: RSA New Contemporaries, exhibition and live spoken word performance, Royal Scottish Academy, Edinburgh
2017: RSA Open Exhibition, Royal Scottish Academy
2017: Best of Degree Show, Six Foot Gallery, Glasgow
2017: Annual Art, Design & Architecture Degree Show, Duncan and Jordanstone College of Art and Design, Dundee
2017: Trans-Fixed Live Performance Event, generatorPROJECTS, Dundee
2016: ATTRIBUTES, Room 601, Duncan of Jordanstone
2016: Multi Exhibition, Matthew Entrance Gallery, Duncan of Jordanstone
2016: Art & Philosophy's First Social Event 16/17, Matthew Entrance Gallery, Duncan of Jordanstone
2015: Culloden Viaduct Exhibition, Culloden Battlefield Centre, Inverness
Selected Publications
2023: Outcrop Poetry Issue 2, Outcrop Poetry Magazine, Edinburgh
2023: Wrong Directions Issue 1, Typewronger Books, Edinburgh
2022: Bollock Naked by Dr. Jock Howie, self-published zine, Edinburgh
2021: Grace and Consistency, riso-printed pamphlet with Yalla Riso, published in Dundee and distributed in Edinburgh
2021: Littoral Magazine Issue 3: Spring Equinox, online magazine
2020: All You Can Eat, collaborative zine curated and edited by Alex Weir
2019: Alba down to Nippon, self-published zine, Edinburgh
2019: Polemical Zine Issue 11: Social, online zine, Canada
2019: New River Press Yearbook 2018-19, New River Press, Fitrovia, London
2018: The Celestial Midnight Bar, self-published, Edinburgh
2018: Untitled Poetry Collection, self-published, Dundee
2017: Prose Poems, self-published, Dundee